Last updated: Monday, April 11, 2013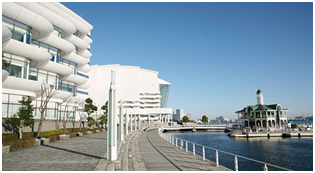 The 1st Conference on
Laser and Accelerator Neutron
Sources and Applications
Held jointly with Optics & Photonics International 2013
Orgnized by
Institute of Laser Engineering, Osaka university
Co-orgnized by
The Laser Society of Japan
The IFE Forum (IFE: Inertial Fusion Energy)
The Atomic Energy Society of Japan
Incooporated with
The Japan Society of Plasma Science and Nuclear Fusion





April 23 (Tue.) ­ April 25 (Thu.), 2013
Pacifico Yokohama
Yokohama, Japan

LANSA'13 abstract is here!
LANSA'13 Program is here!
Program and Full abstract are now avilable!
CallForPapers
---
OBJECTIVE
Recent advancement of high power laser technologies enable us to open a new horizon of neutron sources along with conventional ones based on accelerators and nuclear reactors.
Various types of short-pulse, high-fluence neutron sources have been developed including laser-driven fusion, laser accelerated ion beams, and cluster-explosions. And, these neutrons are used in a wide variety of applications for such as electricity generation, transmutation for nuclear wastes, biomedical care, and material science.
Upon these backgrounds, a new forum will be held, setting laser-assisted neutron sources and applications as key terms, in order to overview the present status and future prospects of relevant fields. This forum will also provide an opportunity for participants to exchange mutual information and activate their own researches.
---
SCOPE
The 1st Conference on Laser and Accelerator Neutron Sources and Applications:
Neutron Sources
(laser fusion, accelerators, cluster explosion, laser-driven ion beams, photonuclear reactions, nuclear reactor, RI, et al.)
Control technologies
(energy, angular distribution, moderators, control system, et al.)
Neutron Diagnostics
(high resolutions in space, time and energy, sensitive imaging, et al.)
Applications
(nuclear transmutations, nuclear waste rocessing biomedical applications, fusion reactor wall, material investigations, fission-fusion hybrid-reactor, et al.)
---
FORMAT
Organized sessions will consist of invited oral presentations of 30 min. and contributed oral presentations of 15 min. duration including discussion. In addition to these regular oral sessions, poster presentation session will be planned to stimulate the discussion of the field. The auther(s) of papers will be informed of the size of bulletin board for displaying summary, figures, tables, etc., when selected as poster papers.
---
SUBMISSION OF PAPERS
Original papers that have not been previously presented and that describe new contributions in the areas covered by the descriptions above will be accepted for presentation.
Detailed instructions will be available soon.
Papers should be submitted electronically, no later than Dec. 20, 2012. Authors are requested to submit a summary paper written in English, that fits within a two-page 17 cm x 24 cm template, including text, figures, tables, and references. The template for papers is available here.
---
OFFICIAL LANGUAGE
The official language of LANSA '13 is English.
---
LANSA f13 SPECIAL ISSUE OF Plasma and Fusion Research
A special issue of the Plasma and Fusion Research ( http://www.jspf.or.jp/PFR/about.html ), the journal of the Japan Society of Plasma Science and Nuclear Fusion Research, will be published in 2014.
All authors of LANSA f13 are strongly encouraged to submit their original papers for the special issue. Submissions from invited speakers are especially welcome. The deadline for submission is May 31, 2013.
Please note that all submissions will be peer-reviewed following the editorial policy of Journal of Plasma and Fusion Research. Manuscripts should follow submission guidelines gInstructions for the Preparation of Manuscriptsh and be submitted through the electronic form on the internet.
---
REGISTRATION
Registration Fees (Non-member∗)
Before or on
Mar. 22, 2013
After
Mar. 22, 2013
Conference (General)
40, 000 yen
45, 000 yen
(Student, Retiree)
18, 000 yen
23, 000 yen
Registration Fees (Membership∗)
Before or on
Mar. 22, 2013
After
Mar. 22, 2013
Conference (General)
35, 000 yen
40, 000 yen
(Student, Retiree)
15, 000 yen
20, 000 yen
∗Member of organizer, sponsors and cooporative society are listed on this page and OPIC site.
OPTICS & PHOTONICS INTERNATIONAL CONGRESS 2013 (OPIC 2013)
Ten international conferences are going to be held simultaneously. By registering for this conference (eLANSA f13), you can participate in all of them.
The 2nd Advanced Laser & Photon Source (ALPSf 13)
The 2nd Laser Display Conferencef12 (LDCf 13)
Conference on Laser Surgery and Medicine (CLSM2013)
International Conference on High Energy Density Science 2013(HEDS 2013)
Conference on Laser and Accelerator Neutron Sources and Applications (LANSA 2013)
International symposium on Laser Processing for CFRP and Composite Materials 2013(LPCCf2013)
Application to Nuclear Power of the Laser
Laser Ignition
LED and its industrial Applications
Food Inspection by Laser
OPIC2013 website: http://opicon.jp/
EXHIBITION
OPTICS & PHOTONICS International 2013 Exhibition will be held simultaneously on April 24 (Wed) - April 26 (Fri) at Pacifico Yokohama.
---
LANSAf13 COMMITTEE MEMBERS
CONFERENCE CHAIR
Hiroshi Azechi (ILE Osaka, Japan)

ADVISORY BOARD (Tentative)
K. MIMA iGPI, Japanj
M. Dune iLLNL, USAj
Y. IKEDA (J-PARC, Japan)

PROGRAM COMMITTEE (Tentative)
Co-chairs
H. NISHIMURA iILE Osaka, Japanj
T.MISAWA (Kyoto. Univ, Japan)

Members
Y. ARIKAWA (ILE, Osaka, Japan)
C. BARTY (LLNL, USA)
F. BEG (UC San Diego, USA)
L. BERNSTEIN (LLNL, USA)
A. FLACOO (Ecole Polytechnique, France)
J-H. HAN (Seoul Nat. Univ. Korea)
S. ISHIYAMA iJAEA, Japanj
J. JORTNER (Tel Aviv Univ. Israel)
T. KAWASHIMA (Hamamatsu Photonics K.K. Japan)
Y. KIYANAGI (Hokkaido Univ. Japan)
K. KONDO (JAEA, Japan)
I. W. LEE (GIST, Korea)
T. MOTOHIRO (TOYOTA Central R&D Labs. Japan)
I. MURATA iOsaka Univ. Japanj
M.NAKAI (ILE Osaka, Japan )
P. NORREYS (RAL, UK)
J. M. PERLADO iUniv. Politecnica de MadridCSpainj
M. ROTH (Tech. Univ. Darmstadt, Germany)
S. SAKABE iKyoto Univ. Japanj
H. SHIMIZU iNaogya Univ. Japanj
M.SUGIMOTO iJAEA, Japanj


CONFERENCE SECRETARIAT
Fumie@Nakanishi
e-mail: lansa@ile.osaka-u.ac.jp

---
LOCATION OF CONFERENCE SITE
LANSA f13 takes place at the Pacifico Yokohama convention center in Yokohama, Kanagawa prefecture, Japan. Yokohama, the center of Kanagawa prefecture, is just south of Tokyo. The Pacifico Yokohama convention center is conveniently located about 40 min. from Haneda Airport and 90 min. from Narita Airport when traveling by Limousine Bus.

Pacifico Yokohama
1-1-1 Minato Mirai, Nishi-ku, Yokohama, Kanagawa 220-0012 JAPAN

http://www.pacifico.co.jp/english/index.html

Transportation guidance: TEL +81-45-221-2166
General information: TEL +81-45-221-2155
FAX +81-45-221-2136