Target Factory
In the target factory, we develop a wide variety of target fabrication technologies, and supply highly accurate targets to users for high energy density scientific experiments using laser equipment.
Cone – shell target
In order to realize efficient plasma heating with high speed ignition method, we have developed a cone – shell target. We were first in the world to have demonstrated plasma heating by fast ignition method using the cone-shell as target. Now this target is used as the standard.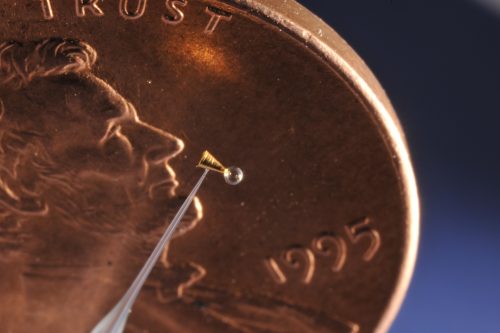 Cone guide target
R. Kodama, P.A.Norreys, K. Mima, et al.,"Fast heating of ultrahigh-density plasma as a step towards laser fusion ignition", Nature 412 (2001) p.798
R. Kodama et al., "Fast heating scalable to laser fusion ignition" Nature 418 (2002) p.933.
Dog bone target
It was manufactured to measure the soft X-ray absorption rate of tin plasma. By irradiating the laser from the lateral hole, the inside of the target was uniformly heated, and light of a wavelength to be measured was subsequently irradiated from the front window, and the absorptance was calculated from the ratio with the back light. This experiment gave important knowledge in the development of extreme ultraviolet light sources for semiconductor manufacturing.
S. Fujioka, H. Nishimura, K. Nishihara, et al.,"Opacity Effect on Extreme Ultra-Violet Radiation from Laser-Produced Tin Plasmas", Phys. Rev. Lett., 95 (23), 235004, (2005).
Solid sphere of copper oleate
In order to measure the energy deposition rate from ultra-high intensity laser to high density plasma, we have developed a solid sphere made from copper containing oleic acid. By measuring the intensity and spectrum of X-rays radiated from copper, it is possible to measure the rate of energy application and the temperature of heated plasma.
Snail target
The snail target is a cylindrical-like target which was theoretically proposed for generating a very intense magnetic field using an ultra-high intensity laser. We have succeeded in making the snail target and used it for experiments.
Y. Abe et al., "Whispering gallery effect in relativistic optics", JETP Letters, Vol. 107, (2018), p. 351.
Target materials, reviews of manufacturing technology
For more details about the technology under development, please see the following reviews.
K. Nagai et al., "Review of low-density porous materials used in laser plasma experiment", Physics of Plasmas, Vol. 25, (2018) p. 030501.
K. Nagai, T. Norimatsu, Y. Izawa and T. Yamanaka, "Laser Fusion Target Nanomaterials", Encyclopedia of Nanoscience and Nanotechnology, Volume 10, pp.407-420, (2004). Ed. E. H. Nalwa, American Scientific Publishers
Keiji Nagai, Takahiro Norimatsu, Yasukazu Izawa, "Laser Fusion, Target Production Techniques for Laser Plasma Experiments and Utilization of New Materials", Journal of Plasma and Nuclear Fusion Research, 80 (7), 626-639, (2004)